colleentiff wrote:
crazyliyah wrote:
one i just did 2 misz aqo lol
more....

worksz of other people.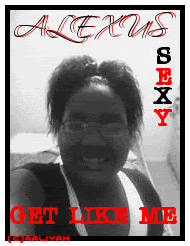 thanks 4 tha pic...can u make me one like the 3rd one...ill give u a pic....or make one like the 4 th one...but i want it to b red instead of purple.....plz and thanks.
tell yooh like i tell everybody else on here who keep botherin me bout em.
o01.upload the pic you want to be black n white
o02.click on ajust and click black and white.
o03.then add the border you want
o04. then qo tio animator home
o05.upload another pic
o06.qo to adjust again
o07.click color tint [make it the color you want]
o08.click edit and crop the image wit the color tint. and paste that onto the imaqe wit the border on it.
yur done lol
_________________
---------------------------------
--AaliyahMarie;;<3
that's me :)